All Church healers are registered with a recognised Healing Organisation, which is part of UK Healers. There is no charge for healing, but donations are welcome. Healing generally takes place in the Church or in a quite room. You should note that car parking close to the Church can be difficult, but there is a small car park available. If you have any further questions please feel free to contact us.

Advice for those receiving Spiritual Healing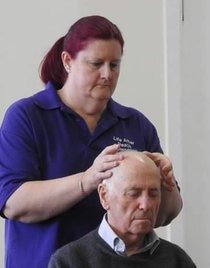 Lesley Malton is on the council of the United Spiritual Fellowship and a Spiritualist Minister. She became involved with Wimbledon and Hackbridge Spiritualist Churches about 21 years ago after losing her mum. She sat in circle with Jackie and then Ray Robinson at Hackbridge Church. Over the years she developed as a medium and healer and now teaches the trainee healers at Wimbledon Church and runs the Healer Counselor course with her daughter Danielle. She runs a circle and is a qualified Indian Head Massage therapist.
What is Spiritual Healing?
Spiritual healing is a complementary therapy that is legal in Great Britain. It is the healing of the mind, body and soul. The Healer is a channel of energy which links up the natural healing power within the body to the Divine source/ Universe. Some healers will use the laying of hands on the body but of course they will not touch you anywhere inappropriate. Others work with the bodies aura so will heal a few inches away from the body. Our healers will endeavour to provide relief from pain and suffering and promote the patients well being. All our healers have completed a two year training course.
What is its purpose?

The purpose of healing goes beyond securing physical improvement. Its aim is to bring into harmony spirit, mind and body, so that you may lead a full, healthy and happy life, and possess a deeper awareness of God's love.
Do I have to get undressed to have healing?
No you do not, you may remove any outer clothing or shoes etc if that makes you feel more comfortable.
Can a spiritual healer cure me of my illness?
Healers can never promise to cure you and will not attempt to give you any diagnoses, but healing will generally make you feel more relaxed, less stressed and promote a good nights sleep. Healing can help with all sorts of conditions both physical and mental.
How long should you carry on with healing?

Sometimes healing is successful in one treatment. Far more often, it is progressive; the results appear gradually. Please do not get discouraged and give up in the early stages. It is very rare for anyone to continue healing for a period without receiving some benefit.
Will I feel any pain when having healing?
Our healers will never touch anywhere you may be sore or in pain. You may feel some sensations during a healing session such as the healers hands might feel hot or cold. You may see colours, feel tingly or have a floaty feeling but none of these will make you feel uncomfortable.
Can I have healing if I am taking medication?
Yes of course you can, Spiritual healing runs alongside orthodox medicine and we always advise you to see your doctor if you can. Many doctors will now suggest healing to some of their patients and hospitals and hospices are also using healers to help their patients.
Can children have healing?
Yes as long as they are accompanied by a parent or guardian who will give their permission and stay with the child during the healing session.
Can animals have healing?
Yes animals can have healing as long as they have been to see a Vet. All our healers are trained to look after your animals and they usually do respond well to treatment.
Do I have to be religious to have healing?
No, healing is non denominational. All we ask is that you have an open mind and heart when coming for healing.
Can I bring a friend or partner into the room when I have healing?
Yes of course as long as they are open minded about the healing and happy to escort you.
What happens if I tell the healer something personal?
Everything said during a healing session is in the strictest confidence and any files or documents that we have to keep by law are locked away safely.
How can you help?

We do need your co-operation and below are some ways in which you can help: -
- Have healing regularly
- Have an open, expectant mind. Do not be over-anxious for early results. Wait patiently and in confidence for them to appear.
- Realise that, very often, health or illness depend on the mind. Your thoughts can either help or hinder the smooth working of your body. If you have any old grievances, guilt complexes, resentments, fears, or other harmful emotions, they can well be the cause of ill health. Try to get rid of them. Forgive those who have upset you. Accept your circumstances without resentment. If you have problems of this nature, discuss them with your healer or group leader.
- Practise "self – healing". Try, always, to picture yourself as fit and well. Once or twice a day, sit down quietly, and visualise God's healing power entering the whole of your body. Several times a day , tell yourself that you are feeling better. These steps will help to bring about the positive frame of mind that is essential for real health.
How much does healing cost?
In our church we just ask for a goodwill donation.
What to do when you wish to stop visiting the healer?

Obviously you will not want to have healing forever. But, when you decide to stop, please tell your healer. This is not just a matter of common courtesy. Healers develop a real concern for their patients and they like to know whether the healing has been successful or whether there are any problems that can be sorted out. A note of thanks is always welcome.
If you have any other questions you would like to ask about healing then just speak to Lesley Knight our Healing Tutor or one of our qualified healers, they will always be happy to help you in any way they can.